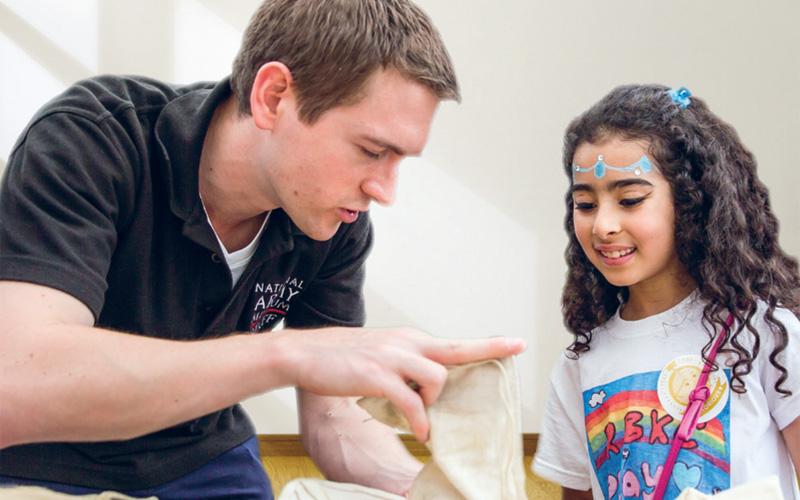 Join us at the Every Man's Club, for a fun activity-based afternoon and learn about how soldiers relaxed during the First World War.
The realities of the First World War were tough on soldiers, physically and mentally. In 1915, British Army chaplain Tubby Clayton created a place where soldiers could escape to: The Every Man's Club. Located in Poperinghe, Belgium, the club became known as Talbot House and hosted a variety of entertainers. Regardless of rank, all soldiers were welcome.
Following the success of the Waterloo Pop Up screening last year, this year we present a Pop Up Every Man's Club. Bring your kids along for a FREE fun-filled afternoon of hands-on activities and entertainment including craft workshops and games.
The Families Experience includes:
Learn about the history of Talbot House with its founder – Tubby
Enjoy a free snack of egg and chips and free tea and squash
Be entertained by a magic and illusion show
Hear stories about soldiers from the First World War
See a screening of the Happy Hoppers film
Tickets
There are two time slots available:
1.00pm to 3.00pm

4.00pm to 6.00pm

– SOLD OUT
The event is free. Contact our customer services team on 020 7730 0717 to reserve your tickets.
Venue details
4 Princelet Street
Spitalfields
London
E1 6QH
Explore the map for similar events
Every Man's Club: Families Experience - 4 Princelet Street, London