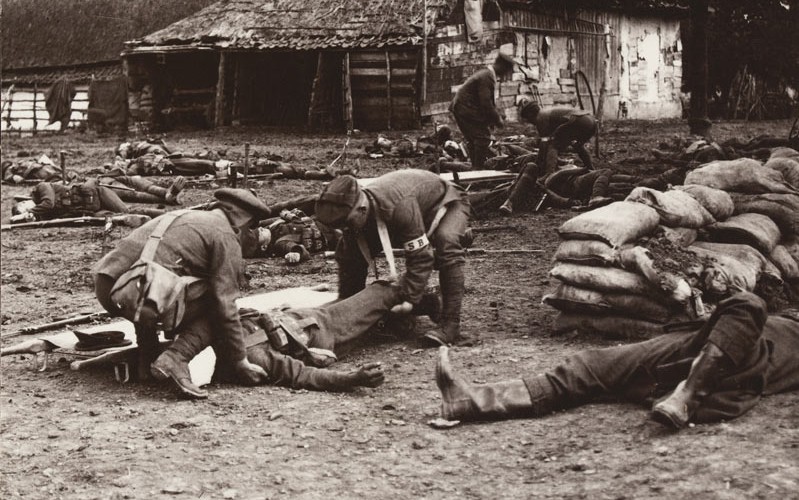 More details: NAM. 2001-02-256-26
Discover the experiences of stretcher bearers from the First World War and learn how they continue to influence military and civilian medicine today.
This event is part of the National Army Museum's regular Daytime Talks series.
Dr Emily Mayhew will explore the creation of a specialist stretcher bearer corps on the Western Front, which transformed military medicine into the system that is still in use today. Without these first 'First Responders' we would have no Combat Medical Technicians (CMT), no Medical Emergency Response Team (MERT), and even no paramedics in our civilian trauma provision.
Emily will discuss how stretcher bearers, many of whom were conscientious objectors, were everywhere on the Western Front: in the forward trenches waiting for the orders to go over the top, in shell holes and shattered aid posts treating the wounded and avoiding sniper fire, even at the executions of soldiers convicted at courts martial where they had a particular and deeply resented final responsibility.
Dr Emily Mayhew is a military medical historian specialising in the study of severe casualty, its infliction, treatment and long-term outcomes in 20th and 21st century warfare.
Events are subject to change. Please check the website closer to the date.
Bookings
Entry to Daytime Talks is free. However, places must be reserved in advance by contacting our customer services team on 020 7730 0717.
Venue details
Royal Marsden Education and Conference Centre
Stewart's Grove
London
SW3 6JJ
Explore further
Explore the map for similar events
How First World War Stretcher Bearers Changed Medicine Forever - Royal Marsden, London