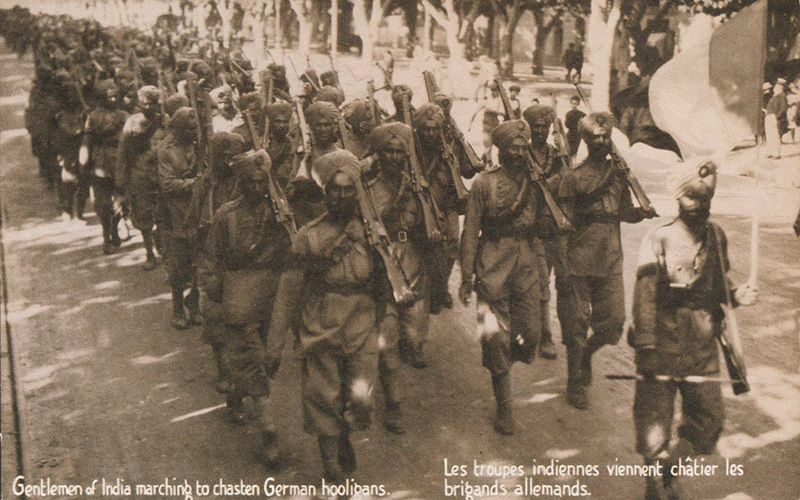 More details: NAM. 1983-10-275-1
Shrabani Basu will present personal narratives demonstrating the contribution of Indian soldiers on the Western Front during the First World War.
This event is part of the National Army Museum's regular Daytime Talks series.
Shrabani Basu tells the story of the 1.5 million Indian soldiers who went to the Western Front during the First World War. The talk will cover the personal narratives of some of these Indians: from a grand turbaned Maharaja to an illiterate peasant who won the Victoria Cross.
Based on accounts buried in villages in India and Pakistan, as well as British archives, the talk will recreate the war through the eyes of the Indians and show how they ate, prayed, fought and died in their first Western war.
Shrabani Basu is a journalist and historian. She is the author of 'For King and Another Country, Indian Soldiers on the Western Front 1914-18', 'Victoria & Abdul: The True Story of the Queen's Closest Confidant', 'Spy Princess: The Life of Noor Inayat Khan' and 'Curry: The Story of the Nation's Favourite Dish'. She is the founder and chair of the Noor Inayat Khan Memorial Trust.
Events are subject to change. Please check the website closer to the date.
Bookings
Entry to Daytime Talks is free. However, places must be reserved in advance by contacting our customer services team on 020 7730 0717.
Venue details
Royal Marsden Education and Conference Centre
Stewart's Grove
London
SW3 6JJ
Explore further
Explore the map for similar events
For King and Another Country: Indian Soldiers in the First World War - Royal Marsden, London