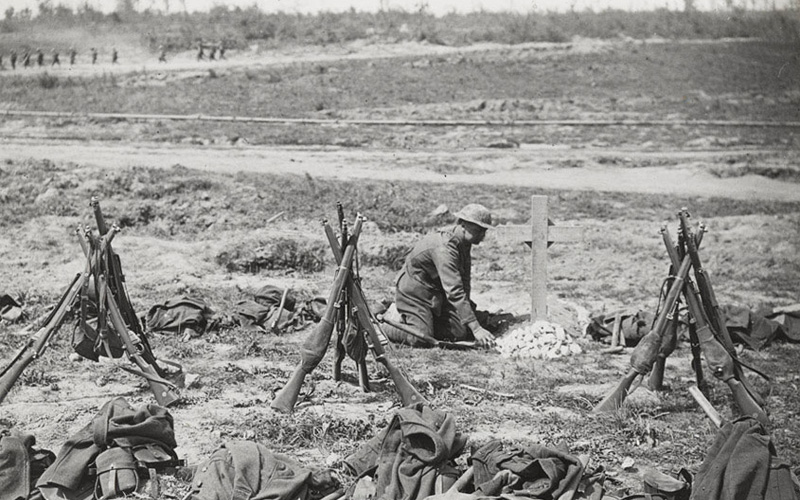 More details: NAM. 1978-11-157-4-57
Alexandra Churchill will share the stories of fallen soldiers from the Battle of the Somme, one of the costliest campaigns of the First World War.
This event is part of the National Army Museum's regular Daytime Talks series.
The Battle of the Somme was one of the costliest campaigns of the First World War, with tens of thousands of casualties on both sides, drawn from all corners of the world.
Alexandra Churchill's new book describes each day of the battle, from the perspective of 141 fallen casualties. Through their eyes the full scope of the horror of the Somme emerges. She will discuss how and why the men in the book were chosen, and the mammoth task of drawing nearly 150 individuals together to paint a coherent battle.
Alexandra Churchill is an author, researcher and historian who has contributed to and appeared on numerous television documentaries, including Timewatch (BBC2), Fighting the Red Baron (Channel 4) and Titanic with Len Goodman (BBC1). Her first book, the critically acclaimed 'Blood and Thunder: The Boys of Eton College and the First World War', was published in 2014, followed by 'Over Land and Sea: Chelsea FC in the Great War '(2015) in collaboration with Andrew Holmes. 'Somme: 141 Days, 141 Lives' was released in 2016.
Events are subject to change. Please check the website closer to the date.
Bookings
Entry to Daytime Talks is free. However, places must be reserved in advance by contacting our customer services team on 020 7730 0717.
Venue details
Royal Marsden Education and Conference Centre
Stewart's Grove
London
SW3 6JJ
Explore the map for similar events
Somme: 141 Days, 141 Lives - Royal Marsden, London