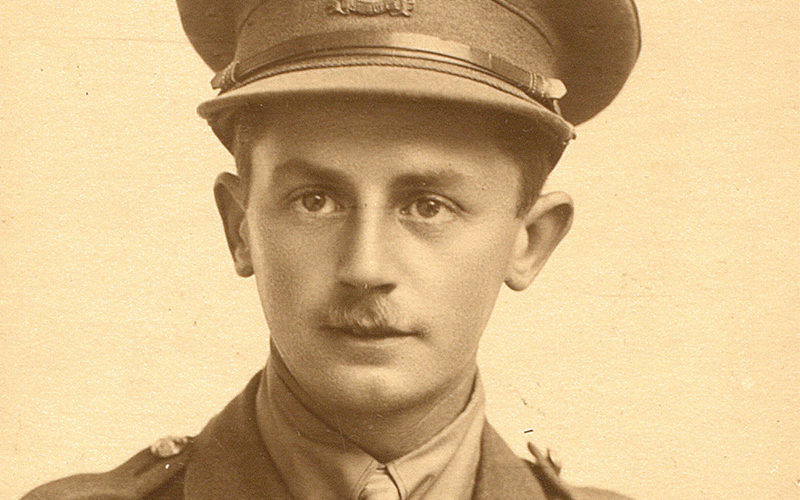 More details: NAM. 2001-07-270-1
In July 1918, Lieutenant Bernard Ellis was serving in Mesopotamia when he took up a new post as a bombing instructor. Within weeks, he had been badly injured while saving his comrades after a training accident. For his heroism, Ellis received the Albert Medal, Britain's highest award for bravery not in the presence of the enemy.
All quiet on the Mesopotamian front
Ellis's unit, 1/5th Battalion (The Weald of Kent) The Buffs (East Kent Regiment), had been in Mesopotamia (now Iraq) since December 1915. The British had subsequently captured its capital Baghdad in March 1917.
When the offensive resumed in February 1918, it soon petered out after troops were diverted to support the operations in Palestine. For the next few months, the British were content to consolidate their positions and keep their forces trained and ready for action until the fighting against the Turks could be renewed.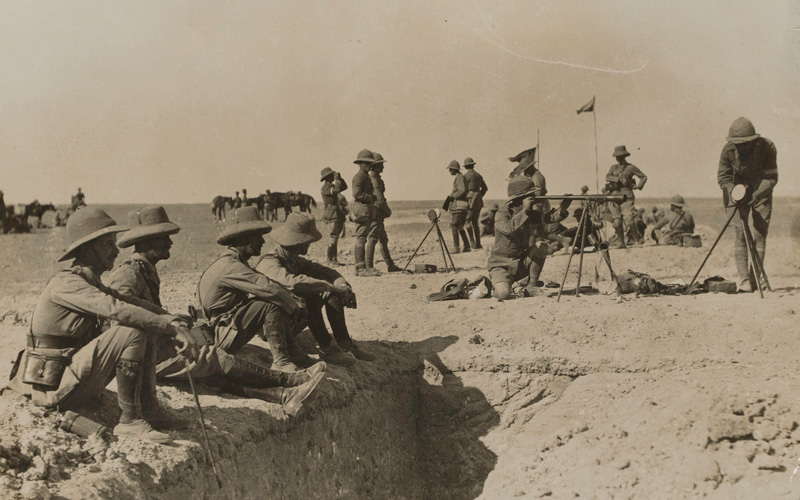 More details: NAM. 2007-03-8-40
Bombing instruction
In July 1918, Ellis was appointed a bombing instruction officer with 35th Indian Brigade, part of 14th Indian Division. He provided on-the-job training in throwing grenades and using rifle grenades.
Such courses formed a major part of a soldier's life, both for recent recruits and more experienced men. Whenever units came back from the front to rest, they trained to hone their fighting skills, often in a quiet sector of the front.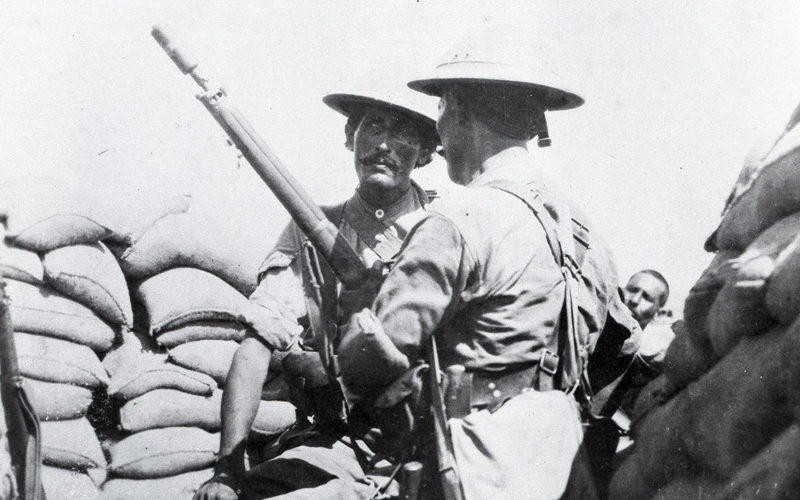 More details: NAM. 1983-03-41-4-44
For gallantry
Throughout July and August, Ellis was instructing soldiers at Shahraban, about 50 miles (80km) to the north of Baghdad. On 21 August 1918, he was helping to train a party of soldiers in the firing of rifle grenades. 'The London Gazette' of 18 July 1919 explained what happened next:
'A volley was fired, but one of the grenades, owing to a defective cartridge, did not leave the rifle, but fell back into the barrel with the fuse burning. The firer lost his head and dropped the rifle and grenade in the trench, but Lieutenant Ellis, who was separated from the man by four other men in a narrow trench, at once forced his way past them and seized the rifle. Failing to extract the grenade, he dropped the rifle and placed his steel helmet over the grenade, which at once exploded, severely injuring him. There can be no doubt that his prompt and courageous action greatly minimised the force of the explosion and saved several men from death or injury.'
Ellis was invalided downriver to Basra and eventually shipped to India to recover. He underwent several operations there. Although surgeons were able to remove hundreds of fragments of grenade and helmet from his body, many remained, including over 70 which were lodged in his right arm.
For his bravery at Shahraban, Ellis was awarded the Albert Medal.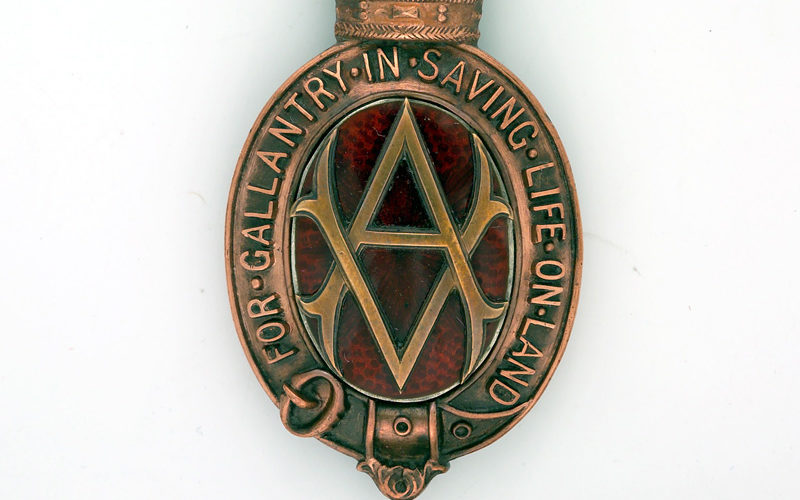 More details: NAM. 2002-02-1105-1
Biography
Bernard George Ellis (1890-1979) was born on 21 November 1890 in Surbiton, Surrey. He was the son of Henry Charles Ellis and May Bennett. Soon after his birth, his family moved to Home Cottage in Bearsted, a village near Maidstone, Kent. Bernard had one brother, Charles Harold.
He was educated at Salisbury Cathedral School and at Montpelier School in Paignton, Devon. In 1911, he was living with his brother at 8 Pine Grove, Boxley Road, Maidstone. At that time, Bernard was employed at the Union of London and Smith's Bank.
In September 1914, following the outbreak of war, Ellis enlisted with the 8th (Service) Battalion (1st Public Schools) of The Royal Fusiliers (City of London) Regiment. After training with them, he eventually headed to France in November 1915. He served in the trenches for six months near the Hohenzollern Redoubt at Loos.
Following the disbandment of the public schools' battalions in April 1916, most of their soldiers were commissioned as officers. In June 1916, Ellis returned to England and, after training at Oxford, he was commissioned into 1/5th Battalion The Buffs.
The 1/5th had originally landed at Basra in December 1915 with the 35th Indian Brigade. Ellis joined his new unit in Mesopotamia in November 1916, just in time for the renewed British advance on Baghdad, launched on 13 December under Lieutenant-General Frederick Stanley Maude. Ellis subsequently took part in the capture of Kut in February 1917 and the occupation of Baghdad the following month.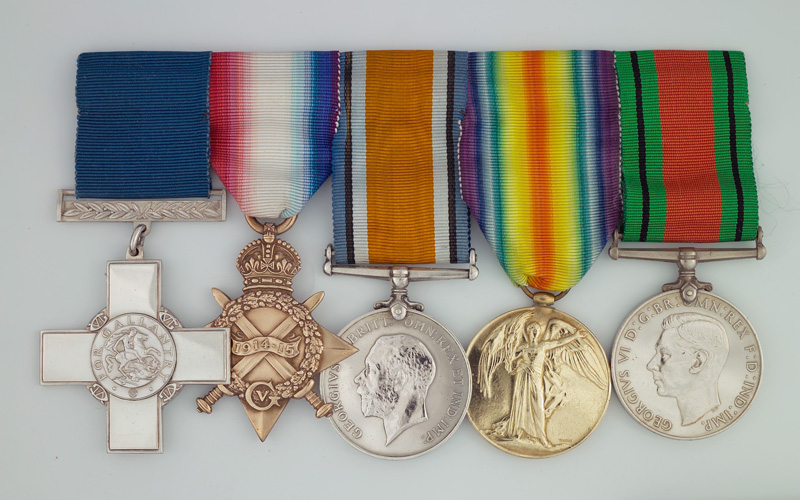 More details: NAM. 2002-02-1105-2
As well as the Albert Medal, Ellis also received the 1914-15 Star, British War Medal and Allied Victory Medal for his wartime service.
Ellis remained in India after the war and later served as Captain of the Guard to Lord Willingdon, the Viceroy of India, in the early 1930s. On returning to England, he later settled at 'Croftside' in Bath, Somerset, with his wife Winifred. He worked there as an accountant.
In 1971, the Albert Medal was discontinued and all living recipients were invited to swap their awards for the George Cross. From the total of 64 eligible to exchange, 49 took up the option, including Bernard Ellis. In the years that followed, Bernard and his wife regularly attended the reunions of the Victoria Cross and George Cross Association in London.
Ellis later moved to Letchworth in Hertfordshire. He died there on 1 July 1979, and was buried at All Saints Church in Willian.
Explore further
Explore the map for similar stories
Lieutenant Bernard Ellis - Maidstone, Kent