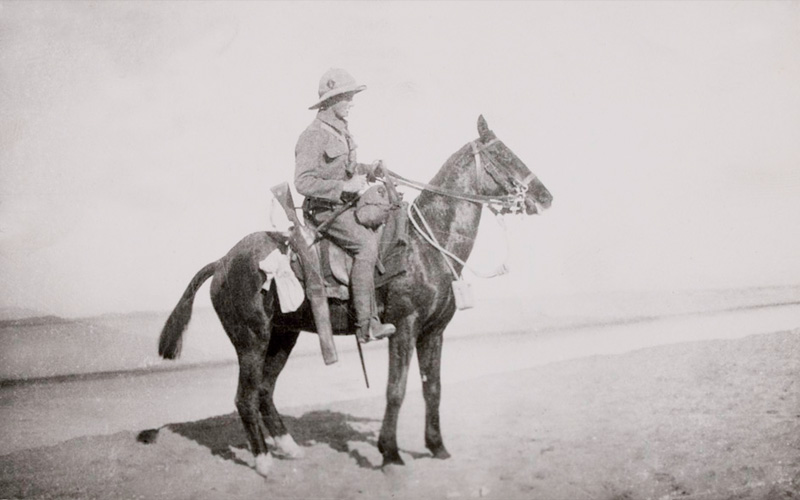 More details: NAM. 1991-07-219-27
Private William Bowyer of 1/1st Buckinghamshire Yeomanry (Royal Bucks Hussars) recalls an unconventional Christmas in Egypt's Western Desert in 1915.
Senussi revolt
On Christmas Day 1915 British troops in Egypt fought against rebellious Senussi tribesmen near Mersa Matruh in the Western Desert. Among those taking part was Private William Bowyer of 1/1st Buckinghamshire Yeomanry (Royal Bucks Hussars) whose memoirs and photographs provide a detailed account of this largely unknown struggle.
Around 5,000 Bedouin Senussi tribesmen had risen up against the Allies in Italian Libya and western Egypt on 19 November. Encouraged by the Turks, who provided them with arms, they sought to capture the coastal towns of Sollum, Mersa Matruh and Da'aba. Other tribesmen occupied oases to the south, from where they launched raids into British-held territory.
Christmas in the desert
In response, the Western Frontier Force (WFF) was formed under Major-General Alexander Wallace. This consisted of the 1st Composite Mounted Brigade and one infantry brigade. This force engaged the Senussi in several inconclusive battles in what was a highly mobile form of warfare. Bowyer described an action on 25 December 1915:
'On Christmas Eve we have a short voluntary service and communion in a bell tent, very strange singing "peace on Earth" and off to kill all we can early next morning… We had a few comforts given out, including a piece of Christmas pudding… Our Colonel wishes us a happy Christmas and we move away into the night, passing other bodies of troops moving off, with artillery rumbling along… We ride off to the west of Matruh, the Australian Light Horse riding round in a big circling movement to the east driving the Senussi towards us. We creep along in the dark, all unknown country, and waiting for the sun to shoot up. Immediately after sunrise 'A' Squadron are in action to our right. We pull off the road and the guns go into action in the open, firing over the Sikhs who had got into position during the night about a mile in front of us. Soon after, a British gunboat cruising off the coast joins in, shelling the ravines and wadies with High Explosive. It was all a fine setting for our baptism of fire, more like the Boer War fighting, plenty of rifle fire, and everybody in the open. As the day wore on curiously enough we seemed to have a cessation mid-day for our Christmas dinner, bully and biscuits. We keep working round their flanks like a horseshoe, with our artillery and infantry in the curved part. Darkness fell about 5 o'clock and saved them today from a decisive smashing, but they will not again worry Matruh as they retreat towards Shamash leaving about 400 dead. Our casualties are reported about 250. We start back for Matruh, a 15 mile [24km] ride… About 7 it comes on to rain, a steady down pour, soon all are wet through. The ride seems interminable, but eventually we get back to the beach at Matruh, feed, and have some very salt tea given to us, which with biscuits forms our supper.'
Battle at Halazin
The bad weather delayed further operations until January 1916 when a column from Bowyer's cavalry brigade engaged the Senussi at Halazin, some 25 miles [40km] south of their camp at Matruh.
'Towards the middle of January the weather improved, and as our aeroplane reports the Senussi encamped at some wells about 10 miles [16km] away, we make preparations to get after them. Leaving camp about January 21 our troop did the flank guard to the column and we bivouac down for a few hours before setting off for the scrap early Sunday morning – our favourite fighting day! It was a bitterly cold morning and we got some way from our resting place before running into the enemy. The cavalry open out to let the Sikhs through to the attack. I should say that today the Senussi put up their best fight, as, very fleet of foot, and supported by a few trained Turks, they were continually trying to outflank us. We race out to the left flank, quite exhilarating, though several come purlers through bullets and also boggy ground. Soon we dismount for action and fighting becomes becomes pretty hot, we lying firing until the enemy are about 400 yards [365m] away, when we race for our horses and away, while the artillery opens on the Senussi in the open. Our wounded, poor fellows, have a rough ride, there being a limber full of them with broken limbs, and all lying on top of each other. Crocker Bulteel, our squadron leader, shows his worth, giving his horse to a wounded man, and running for some time on foot. I am a section leader now, and Densfield brings our horses up in a terrible tangle. Croxford's mount gets bowled over, and Dover's little mare won't stand but we get away full cry. Dover, very good company in a scrap, and we blaze away quite enjoying it… We form up again to cover the artillery but the Senussi counter-attack clears away and late in the afternoon we are left masters of the field, but far from our transport with the rations and necessities for the wounded. Our loss, about 270. Senussi's unknown… Owing to lack of water, food and ammunition, we are compelled to go back rather than forward, and so we slowly go back, taking our dead and wounded with us. We get soaked through just as we start, but this proves a blessing in disguise, as following the tracks of the artillery, we are able to drink the water collected in the ruts, and also even water our horses with surface water.'
This action was again indecisive and the Senussi were able to withdraw in fairly good order. The soft ground and a lack of water for the horses meant that the cavalry could not pursue them. This led to the introduction of camels to the desert force.
Harsh conditions
The Western Desert campaign was fought in a harsh climate, Bowyer calling it 'about the hottest we ever had it. 120 degrees [49C] in the shade of our tents'. Sometimes 'we could only lay and sleep from breakfast till tea-time' so long marches were often undertaken at night.
'The mosquitoes are a great source of trial, and although draped in mosquito nets, one cannot sleep much before morning.'
Victory secured
The campaign culminated on 26 February 1916 at Agagia near Sidi Barrani. There the main bulk of the Senussi were finally defeated by a reinforced WFF that now included camel-mounted troops and light armoured cars. Their victory secured the coast. Bowyer's unit accompanied the cars into action:
'The Duke of Westminster's armoured cars go ahead and are first into it… We reach the Senussi at dusk, but the armoured cars have been there first, and only dead and wounded remain. However, we burn all the material and supplies possible.'
In the interior, the fighting around the oases rumbled on until the rebels were defeated by an armoured car column at Siwa in February 1917. Peace terms were then agreed and the Western Desert remained quiet for the duration of the war.
Although a relatively minor threat, the revolt diverted British resources away from the Suez Canal. Luckily, an Ottoman attack there in January-February 1915 took place before the rising. Had they coincided, the revolt would have been far more dangerous to the British position in Egypt.
Biography
William Basil Bowyer was born on 6 December 1892 in Forest Gate, Essex. He was the son of Joseph Bowyer, a meat salesman and farmer, and his wife Mary Gardiner. William had an older sister, Jessie, and two younger brothers, Joseph and Edward. The family resided at Carisbrook House, 28 The Avenue, Beckenham, Kent. He was educated at Dulwich College.
Bowyer worked in the City before enlisting in the Spring of 1915, joining 1/1st Buckinghamshire Yeomanry (Royal Bucks Hussars) at their recruiting office in Cheapside. The Yeomanry were the mounted arm of the Territorial Force. The Royal Bucks Hussars were mobilised at Buckingham on 4 August 1914.
After training at Buckingham riding school and Tidworth camp, they undertook a spell of coastal defence duties. They then sailed for Egypt with 2nd Mounted Division, departing from Plymouth on the SS 'Ausonia' in April 1915.
The regiment was temporarily dismounted in August and landed at Suvla Bay, Gallipoli, on 18 August 1915. They took part in the attack on Chocolate Hill on 21 August, suffering over 100 casualties. The Bucks were withdrawn to Egypt in November 1915 with the newly-formed 1st Composite Mounted Brigade to operate against the pro-Turkish Senussi along the Libyan frontier.
The Bucks later served in Sinai and Palestine with 6th Mounted Brigade of the Imperial Mounted Division, taking part in the First and Second Battles of Gaza in March and April 1917. Transferred to the Yeomanry Mounted Division in June 1917, they then fought at Beersheba and in the Third Battle of Gaza in October and November 1917, before entering Jerusalem in December.
In April 1918 the Bucks were merged with the Berkshire Yeomanry to form the 101st Battalion The Machine Gun Corps. The loss of their horses was keenly felt by Bowyer and his colleagues:
'Everybody seemed depressed at parting with old pals, some of them had been with us for three years and one knows a horse intimately when they have seldom been more than ten yards away.'
After training with their new weapons, Bowyer's unit left Alexandria on board HMT 'Leasowe Castle'. She was torpedoed and sunk by U-51 on 27 May 1918 in the Mediteranean. Bowyer was picked up by a life boat and then returned to Alexandria by a Japanese destroyer, but 102 of the passengers and crew died.
In June 1918 the 101st moved to Taranto and then journeyed by train to France. Bowyer was subsequently promoted to corporal. His unit spent the remainder of the war on the Western Front, fighting in many of the battles of the 'Hundred Days' Offensive. In Autumn 1918 Bowyer was selected for the Officer Training Corps but the war ended before he was commissioned.
On returning to civilian life, Bowyer farmed for many years at Clare and Great Yeldham. In 1935 he moved to Dukes farm in Layer Marney near Colchester. He was also a successful breeder of racehorses. During the Second World War he commanded Layer Marney and Birch Home Guard.
Bowyer died in October 1981 aged 89 in Sudbury, Suffolk.
Explore
Explore the map for similar stories
Private William Bowyer - Forest Gate, Essex