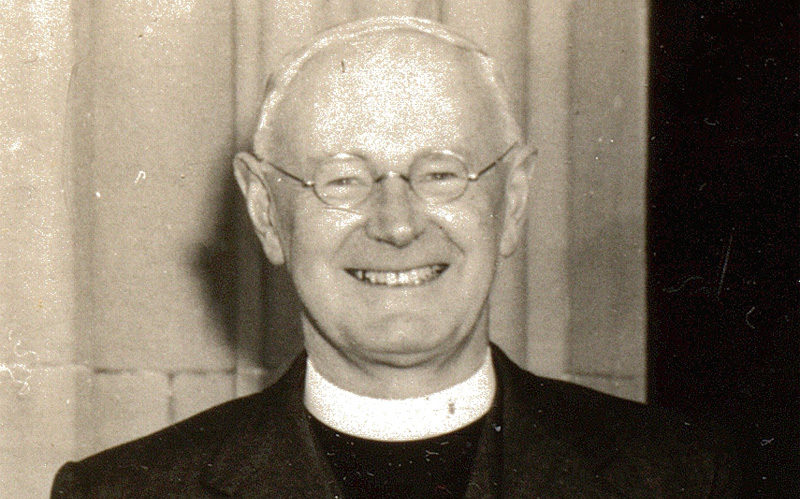 More details: NAM. 2008-06-12-1
In May 1918, Lance-Corporal Talbot Mohan and his comrades were resting in a supposedly quiet sector of the Western Front when the Germans launched the third phase of their Spring Offensive. Mohan's unpublished war diary offers us a unique eyewitness account of the chaos of the subsequent Allied retreat.
Spring Offensive
The German Spring Offensive of March 1918 had made extensive gains along the Somme River region. But by the first week of April, their advance had started to run out of steam and they were held east of Amiens.
Next, the Germans shifted their attention north to Flanders, with another offensive south of Ypres. Operation Georgette captured the Messines ridge and much of the Passchendaele salient, but the attack lost momentum once again.
The Germans decided now to test the French with another offensive further south – the Third Battle of the Aisne (27 May – 6 June 1918).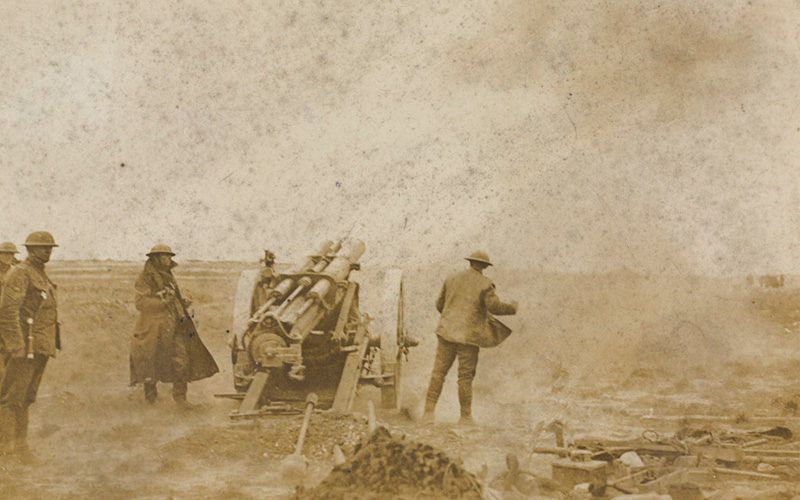 More details: NAM. 2007-03-7-66
Blücher-Yorck
On 27 May 1918, the Germans launched Operation Blücher-Yorck. This surprise attack aimed to secure the Chemin des Dames Ridge and win a breakthrough that would put them within striking distance of Paris. It would also force the Allies to divert troops from Flanders to help defend the French capital, allowing the Germans to renew their offensive there.
At 1am, a heavy German bombardment with gas and high explosive began. The British suffered heavy losses to this barrage because the French commander, General Denis Duchene, would not abandon the ridge, which had been captured the previous year at high cost to his fellow countrymen. In defiance of instructions from his superiors, Duchene had ordered units to mass together in the front line.
Three hours later, German infantry attacked the survivors. The 1st Battalion The Duke of Edinburgh's (Wiltshire Regiment) – part of 25th Division – were in a position in front of Bouffignereux to the south of the River Aisne. Mohan described the attack in his diary:
27 May:

'We were entirely caught by surprise this time, and before anyone realised what was happening the Germans were back as far as our artillery. The gunners had no time to destroy their guns and as far as our division was concerned, they lost them all. We therefore had not a gun behind us – nothing to cover our retreat but machine guns. I never even saw one aeroplane of ours, though the air was alive with enemy planes.

'It can be easily seen that under these conditions all we could do was to retire, doing as much as possible of a rearguard action against such heavy odds… The lads were soon in the thick of it and suffered heavily. The Germans came over in massed formation and although our fellows put up a splendid fight it was impossible to hold them. Nearly the whole of B Company were either killed or taken prisoner.'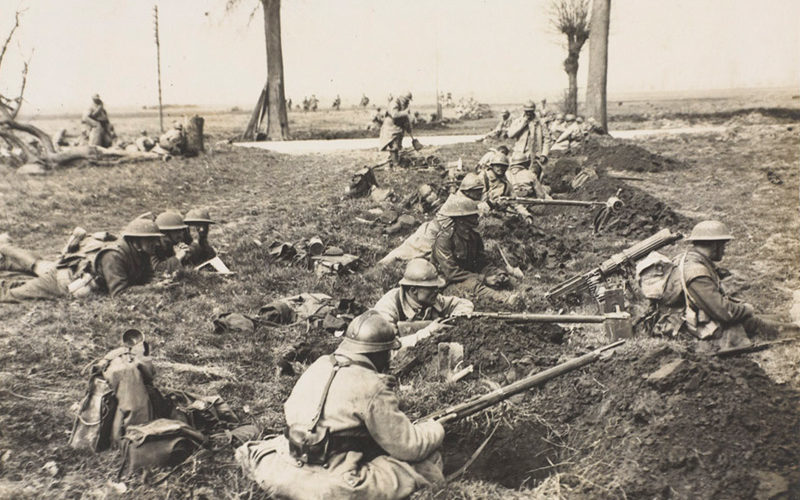 More details: NAM. 2007-03-7-72
By midday, the Germans had broken through and crossed the Aisne, punching through eight Allied divisions on a line between Rheims and Soissons. The survivors of Mohan's battalion managed to extricate themselves and began to retreat along roads filled with fleeing civilians and military traffic with the Germans in pursuit.
27 May:

'After we had marched a long way we began to go along a road… Coming down this was an endless stream of refugees who had just had to leave their homes, snatching up the most necessary things and fleeing for their lives… A sadder sight I never saw, and one which I can never forget…

'Presently we saw planes overhead and heard the crackle of bullets. We had to get down and keep low until they had passed. Later we passed a Red Cross Hospital which was being shelled heavily, and our wounded were being evacuated in motor ambulances… We heard the shells falling nearer and nearer and one pitched right in the middle of the field where we were resting, wounding several…

'As no orders were forthcoming we had to rest in a wood and… watched the Germans coming over the hill opposite… At last the order to move came and we set off again… No sooner had we emerged from the wood than the shelling began. They dropped all around us, in front and behind us, and still we plodded on… being shelled in the open with no cover available is terrible… it cannot be imagined or described… We were streaming with perspiration from the exertion, and almost blinded and choked by the gas from the shells… The casualties were very heavy. We had not gone far before the planes were over again, and we had to lie flat on the ground while they fired their machine guns at us…

'We were all fit to drop, but we daren't stop until we had put a safe distance between ourselves and Fritz… My body urged me to give up, but my mind told me that the only hope of safety was to go on. How thankful we were when we finally reached a place where we could sit down and rest.'
That day, 1st Battalion marched around 19 miles (30km) in the toughest circumstances. The retreat continued the following day, but attempts were being made to stabilise the line.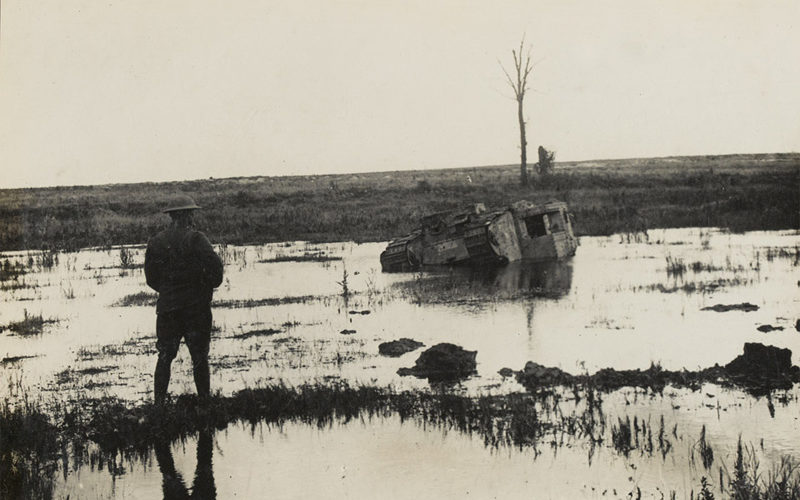 More details: NAM. 1995-03-84-12
In the days that followed, the units of 25th Division were thrown piecemeal into action. Many were all but destroyed. Their remnants, including the 1st Wiltshire, were temporarily formed into composite units, fighting a withdrawal as the enemy pressed on.
Despite the arrival of Allied reinforcements, the German advance continued and Soissons was captured on 28 May.
28 May:

'We were awakened at 4.30am and after having our rations issued we set off on the march again. It was another sweltering day. I don't know how far we went but it seemed endless miles…

'The Germans began to attack again, and there was heavy shelling. All we had to do was to keep low and mind the pieces… The shells were falling all around us thick and fast, and we had a warm time for an hour or so… Every time a shell burst very close we would shrivel up into our holes, and then look over at one another to see that no one was hit… The stretcher bearers were very busy and worked like heroes, running about in the open without any thought for themselves…

'After reaching our position which was a shell hole in front of a pre-war railway line, we fixed up our Lewis Gun and settled ourselves in… At intervals there would be the rat-tat of a German machine gun, and bullets would whiz and spit over our heads as they swept the railway line. Then we would hear the shells passing over our heads going to or coming from the Boche… Sometimes after one of ours burst in their line we heard screams and shouts and we knew it had found its mark.'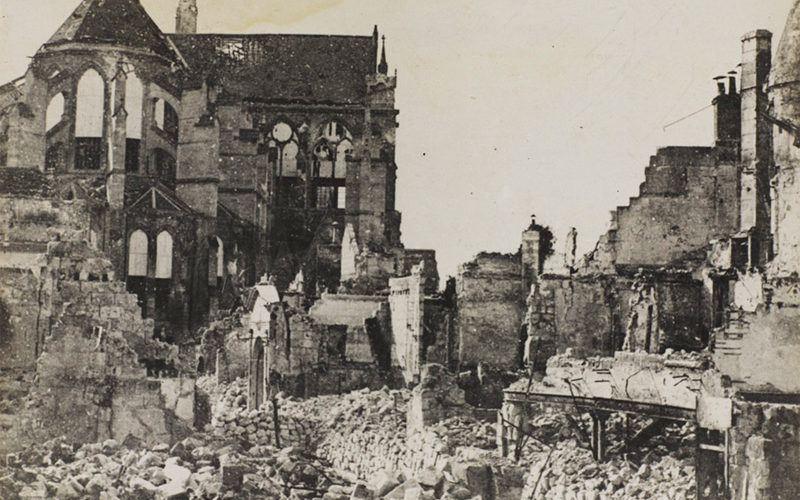 More details: NAM. 2007-03-7-20
29 May:

'The divisions, of whom there were five British, the 8th, 21st, 25th, 38th and 50th… had got so mixed up in the retreat as to be hopelessly separated, and so we sent to the unit which apparently needed us most. We went forward. Of course there were no trenches so we had to dig in where we were posted… Elaborate trenches are only possible where a long stand for many moths is made… At last we seemed to get a settled spot behind a small bank, and here we dug a hole in the side just big enough to sit in, and then we tried to sleep.'
30 May:

'When I awoke it was daylight and the sun was shining. The Germans had begun to attack again, and there was heavy shelling… There was a tremendous lot of wounded, and stretcher bearers were busy. I did envy those poor wounded chaps and would willingly have given away a limb to get away from that hell…

'[Having carried a message from his battalion to brigade headquarters, Mohan then saw] Young lads utterly weary and broken, clothes all torn, no helmet, covered with mud and stumbling and groaning with each step to the dressing station… Outside the station were many stretchers with battered, broken and dying men waiting for attention… It was a procession such as this that we met on our way back [to battalion HQ]…

'We kept asking for information but all we could gather was that all the troops had moved again and were making their way back… We turned and tramped and tramped but no matter how far we went the shells followed us. By this time we were absolutely worn out.'
German troops crossed the Marne and, by 30 May, they were only 37 miles (59km) from Paris. The Germans had also captured over 50,000 Allied soldiers and more than 800 guns; victory seemed imminent. But they were beset by problems, including supply shortages, troop fatigue and lack of reserves. They had also suffered over 100,000 casualties.
On 6 June 1918, following several Allied counter-attacks, the Germans were finally halted and pushed back across the Marne. Soon after, Mohan's unit was finally withdrawn for a rest.
Germans exhausted
Although the Germans launched a series of smaller offensives, including one at Matz (9-12 June 1918), by July they had shot their bolt and morale began to crumble. On 18 July, the French launched a counter-attack on the Marne, forcing the Germans back.
Germany's attempt to break through had exhausted its army. The initiative passed back to the Allies.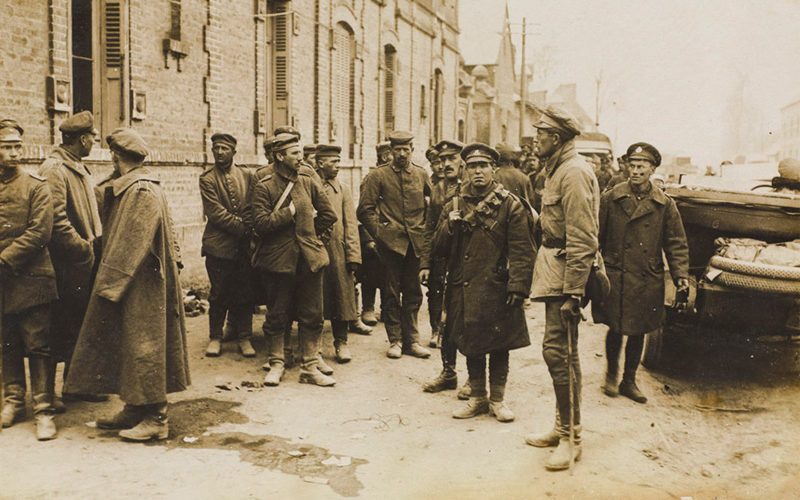 More details: NAM. 2007-03-7-88
Biography
Talbot Greaves Mohan (1895-1979) was born in Torquay, Devon in November 1895. He was the son of Archibald Gault Mohan and Eleanor Johnston of Newton Abbot.
Talbot had two brothers, James and Hugh Archibald, three half-brothers, Bernard Patrick, John Leslie and David Stuart, and a half-sister, Kathleen Eleanor. The 1901 and 1911 censuses show that his family lived at Tormoham in Torquay.
A devout Anglican, Mohan was called up in late 1917. He trained with the 34th Training Reserve Battalion of 8th Reserve Brigade in Devon and Dorset, and was posted overseas from Folkestone on 12 April 1918 with a reinforcement draft bound for the 1st Wiltshire. Arriving at Boulogne, he travelled to Cassel via Etaples and St Omer. He was drafted into a composite battalion and spent the following days engaged in more training.
The 1st Wiltshire was on the Somme front when Operation Michael was launched in March 1918, and was engaged in several days of bitter defensive fighting near Bapaume. After suffering heavy casualties, it was moved north with the rest of 25th Division to Flanders to rest and refit. It lost more men during the Battle of the Lys in April. The Flanders fighting reduced the battalion strength to only one company.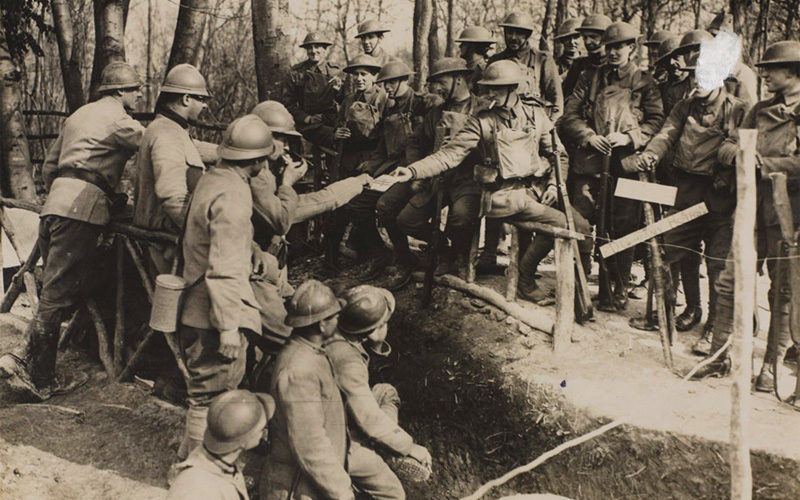 More details: NAM. 2007-03-7-82
Mohan's draft eventually joined the battalion on 22 April near Poperinghe when it came out of the line. He missed the Second Battle of Kemmel (25-26 April 1918) as he was kept in reserve with a small group to form the nucleus of a new battalion should the original be destroyed, which it nearly was.
His division was then moved south to the Chemin des Dames, supposedly another quiet sector, where for the next few weeks it rested and trained. But it was attacked again during the Third Battle of the Aisne.
Mohan was promoted to corporal for his services on the Aisne. In July 1918, he was offered a commission, which he declined as he preferred to stay with his close friends in the ranks. He continued to serve with the 1st Wiltshire during July and August at Thiepval and then Miraumont Ridge. He was later shot in the shoulder during the British attack near Etricourt on 19 September 1918.
Evacuated down the line, Mohan was eventually sent home from Calais on 23 September 1918. He spent time recovering in hospital at Berrington near Shrewsbury and at Ross-on-Wye. He was discharged from the Wiltshire Regiment on 25 February 1919.
After leaving the Army, Mohan began studying for holy orders. In 1929, he was living at 45 Thornhill Road in Islington, London. He married Ada Rees at Gosport in Hampshire in 1932, but re-married in September 1947 to Kathleen Mitchell. The couple later lived in Sydney, Australia from 1956 until 1959, where Talbot was Honorary Canon of St Andrew's Cathedral.
He later lived at 18 Uplands Way in Sevenoaks, Kent, where he passed away on 10 January 1979.
Explore further
Explore the map for similar stories
Lance-Corporal Talbot Mohan - Torquay, Devon