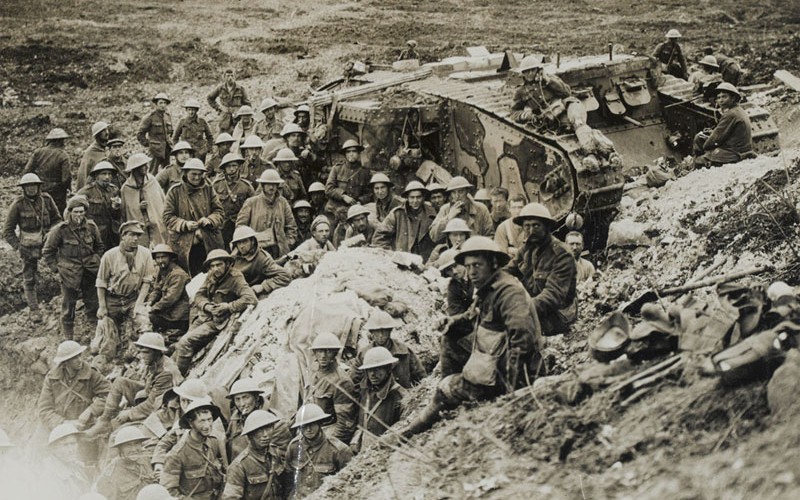 More details: NAM. 1952-01-33-55-90
The War Graves Adjudication team at the National Army Museum researches individuals who served in the British Army during the First and Second World Wars. As part of their work they often uncover fascinating and unique stories, including that of Gustav Alfred Maybaum and his brothers.
Gustav Maybaum was the middle son of Kate and Ludwig Maybaum, both German nationals who immigrated to Britain in the late 1800s. Ludwig sought employment as a master tailor, establishing a family business that also employed his sons. In 1909 Ludwig became a British citizen.
In June 1915, ten months into the First World War, Gustav joined the Territorial Force at Kennington and was posted to the 1/24th Battalion of The London Regiment. Following a period of training, Gustav was sent to the Western Front for service with the British Expeditionary Force, arriving in France in late October 1915. He tasted his first action when the Germans commenced an attack on Vimy Ridge in May the following year.
In September 1916, Gustav was in action again during the attempted breakthrough offensive of Flers-Courcelette. It was on the opening day of the offensive that the British Army deployed tanks for the first time on the battlefield. His unit War Diary states that the new weapons were 'not altogether successful on our part of the line, both getting stuck in High Wood'.
Three days into the battle, on a front reduced to a mass of mud dotted with shell holes, Gustav was wounded in action. He suffered gunshots to his right ankle and pelvis. After treatment at a Field Ambulance and Casualty Clearing Station, he was sent to hospital in Rouen. He remained there until October when he was transported back to England for treatment.
Gustav remained in hospital in Southampton for ten months, undergoing two operations on his wounds, which resulted in the shortening of his left leg by one inch. He was transferred to The King George Hospital in London for further treatment in August 1917 and discharged from the Army on 9 October 1917, being described as 'steady and well conducted'.
Gustav's elder brother, Ernest, had travelled to Germany sometime after 1911, where he continued to work as a tailor. As a British citizen, Ernest would have been held at an internment camp following the outbreak of hostilities in 1914 – most likely for the entirety of the conflict. His younger brother, Albert, joined the Royal Flying Corps in February 1918, becoming the third son of the Maybaum family to be involved in a war against his father's homeland.
Gustav's military service was over, but his war wounds would continue to trouble him. He eventually died at Southwark Temporary Military Hospital on 23 April 1918 and is buried in Camberwell Old Cemetery.
The War Graves Adjudication Unit
Every year the British Army receives a large number of cases from the public who believe an individual should be recognised as a war casualty. These missing names predominantly relate to soldiers and officers who died of their injuries away from the battlefield and whose death was not reported to the Commonwealth War Graves Commission (CWGC). Many of these casualties died while still in service, but soldiers who were discharged as unfit because of their injuries and subsequently died may also be eligible for commemoration, such as Gustav Alfred Maybaum.
This case was brought to the attention of the CWGC by the In From The Cold Project and subsequently adjudicated on by The War Graves Adjudication Unit at NAM. The case was passed for commemoration and the Commission has been working to obtain necessary local permissions to mark Private Maybaum's grave and to arrange the production and installation of a Commission headstone. In the meantime, Private Maybaum's details have been added to the Commission's records to acknowledge his qualification as a Commonwealth war casualty.