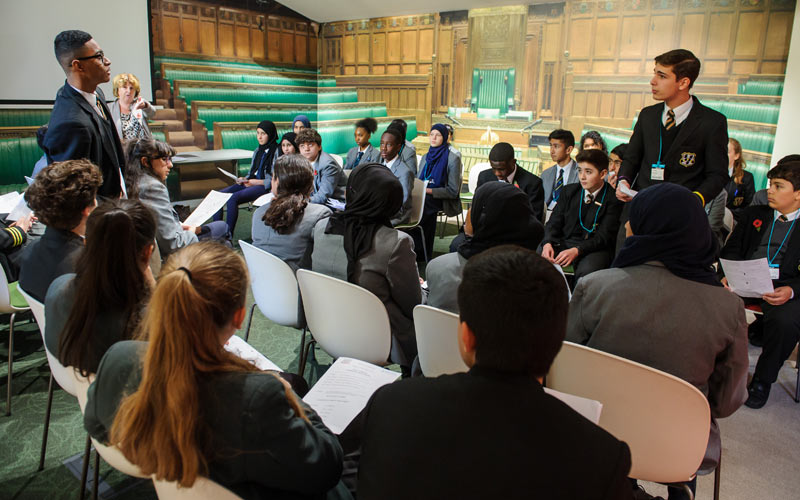 The Museum worked in partnership with the Houses of Parliament Education Service to host a schools debate asking whether your country has the right to make you fight. Here, student journalist Gaia Masullo, from St Thomas More Language College, gives a run-down of the debate.
The debate took place on Remembrance Day (11 November), at the Houses of Parliament Education Centre. It has been 100 years since the British Government introduced conscription, the compulsory enrolment of persons for army service.
In the project, two secondary schools, Quintin Kynaston Academy and the school I attend, St Thomas More Language College, took part in sessions with the National Army Museum and Houses of Parliament learning teams. The sessions explored the history of conscription and debate techniques. Ahead of the debate, students prepared their arguments by further researching and discussing the consequences of conscription.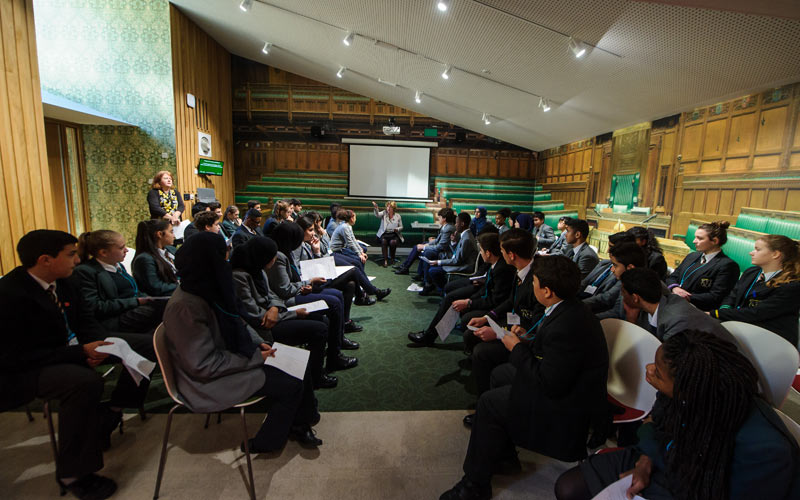 The day of the debate finally arrived, and the two schools finally came together. First, we were given a tour of the Houses of Parliament, including the House of Lords! I personally found this very enlightening, as we were given detailed explanations of the history of the building and parliament itself.
At 1pm, the schools joined together once again in the Houses of Parliament Education Centre's 'My Commons Room', which mimics the real House of Commons.
During the debate, many points came up on both sides of the argument. Firstly those against conscription raised issues such as whether professional soldiers and volunteers perform better than conscripted soldiers. In response, those in favour spoke about the need to be prepared. One student raised the point that 'numbers in the British Army have decreased, making us vulnerable […] we need to prepare for the worst!'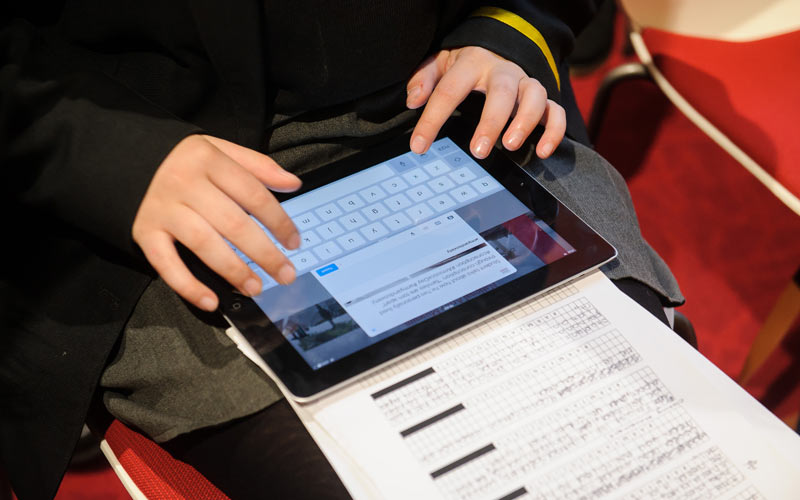 A huge part of the debate surrounded the development of new technologies, including nuclear weapons and drones. Those in favour felt that it is 'better to fight a war face-to-face', rather than with weapons of mass destruction, or else humanity is lost.
Speaking about the experience of his relatives undergoing National Service in Egypt, one student said that 'families are torn apart through conscription'.
The debate ended with the House voting against conscription, with only three students in favour. I personally felt both arguments were strong. However, I voted against. I really enjoyed taking part in this project, and having the opportunity to cover the debate and tweet key moments live!