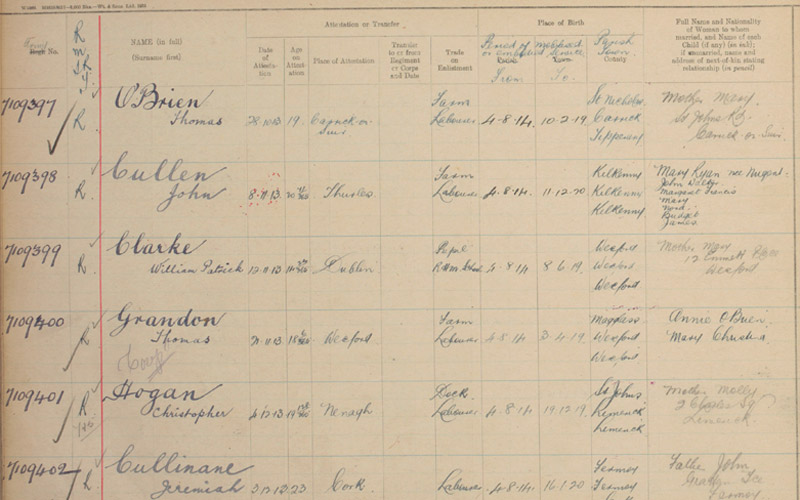 The National Army Museum recently digitised the enlistment books of the disbanded Irish regiments from 1920-22. Discover how these can be used to shed light on the service of soldiers in the First World War.
Although the Irish regiments' enlistment books only cover the years 1920-22, they still hold a particular value when researching soldiers of the Royal Irish Regiment, the Connaught Rangers, the Leinster Regiment, the Royal Munster Fusiliers and the Royal Dublin Fusiliers who fought in the First World War.
In 1920, the practice of identifying soldiers in the British Army with numbers allocated within a regiment ended. Instead, every soldier was given a unique army-wide serial number, most of which ran to seven digits. Upon receiving his new number, each soldier was deemed to have re-enlisted, and a summary of his previous service – 'campaign, wounds, medals or rewards of any kind' – was written into the enlistment book.
Of the nearly 12,000 men who feature in these enlistment books, 3,690 of them served in the First World War. Records of soldiers who left the army from 1920 onwards are still held by the Ministry of Defence, and are only accessible by special application. Using the enlistment books can be a quick way to get information on soldiers who served during the war, not readily available otherwise.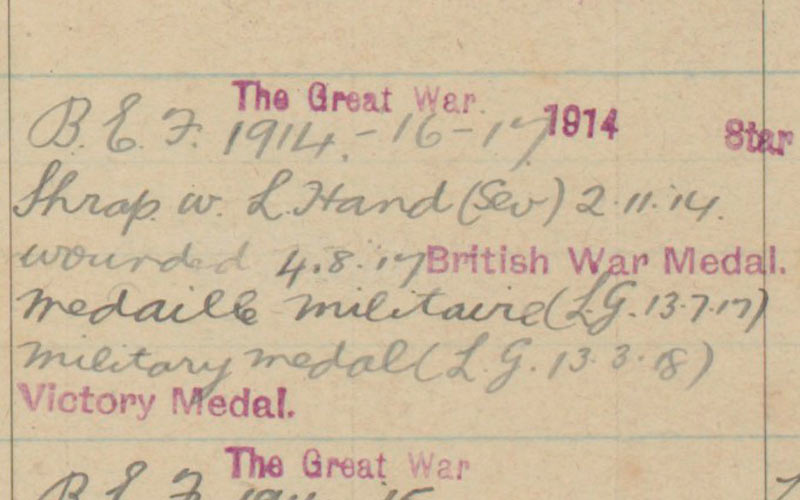 By using this resource, researchers are able to appreciate a range of soldiers' experiences during the war. For example, the entry for John Sheehan (7143394) of the Connaught Rangers shows he suffered a severe shrapnel wound to the left hand on 2 November 1914. He was then wounded again on 4 August 1917, but was recompensed with the award of the French Medaille Militaire in July 1917 and the British Military Medal the following March.
In contrast, Thomas O'Brien (7109397) of the Royal Irish Regiment, was captured in France in 1914 and spent the next four years as a prisoner of war.
Following the outbreak of war on 4 August 1914, Robert Quinn (7076892) was one of the first to enlist in the Dublin Fusiliers, going on to serve in the Mediterranean theatre during 1915-18. His record shows that he forfeited all his medals, following a criminal conviction. His address upon discharge is given as care of the Governor, HM Prison Winchester.