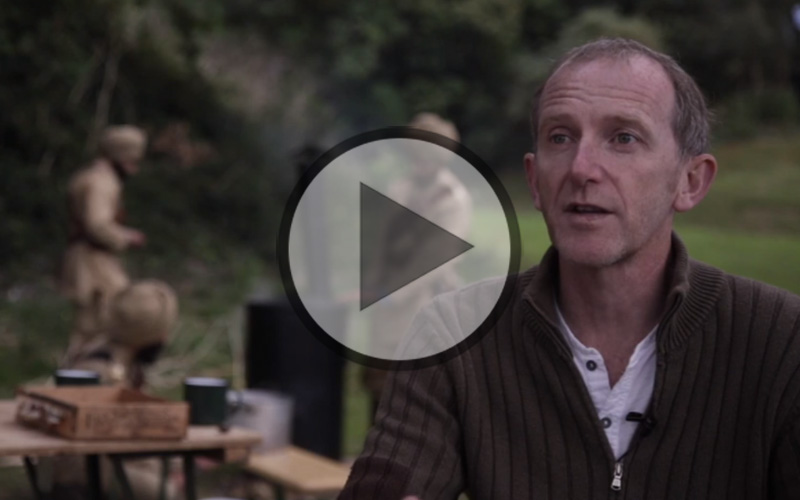 Discover the story of Lieutenant John 'Jackie' Smyth, who was awarded the Victoria Cross for leading a death-defying mission on the Western Front. In this video Smyth's grandson, Andrew, recounts his story.
On 18 May 1915 at Festubert on the Western Front, the British were struggling to hold a captured German trench known as the 'Glory Hole'. At 3.30pm Lieutenant John 'Jackie' Smyth of the 15th Ludhiana Sikhs was ordered to venture out across open ground to deliver some much-needed ammunition.
Having watched the horrific consequences of two previous attempts, Smyth faced the daunting prospect of asking for volunteers to undertake the mission. In Smyth's own words 'the proudest moment of my life was that every man said he wanted to go'.
Accompanied by ten Sikh volunteers, Smyth had to cover a distance of about 230 metres over open ground, exposed to machine-gun fire and enemy snipers. The men were said to have resorted to dragging the heavy ammunition boxes using their pagris (turbans) through mud, water and past the bodies of their fallen comrades.
Eight of the ten Sikhs were killed or wounded in the action. But, against all odds, Lieutenant Smyth, with the aid of Lance-Naik Mangal Singh and Sepoy Lal Singh, successfully delivered the bombs and the trench was held.
For their bravery during this episode, the men received the following awards:
Victoria Cross
Lieutenant John Smyth, 15th Ludhiana Sikhs
Indian Order of Merit, 2nd Class
Lance-Naik Mangal Singh, 15th Ludhiana Sikhs
Indian Distinguished Service Medal
Sepoy Lal Singh, 15th Ludhiana Sikhs
Sepoy Sucha Singh, 15th Ludhiana Sikhs
Sepoy Sampuran Singh, 15th Ludhiana Sikhs
Sepoy Sarain Singh, 19th Punjabis
Sepoy Harnam Singh, 19th Punjabis
Sepoy Sundar Singh, 19th Punjabis
Sepoy Ganda Singh, 19th Punjabis
Sepoy Ujjagar Singh, 45th Rattray's Sikhs
Sepoy Fateh Singh, 45th Rattray's Sikhs