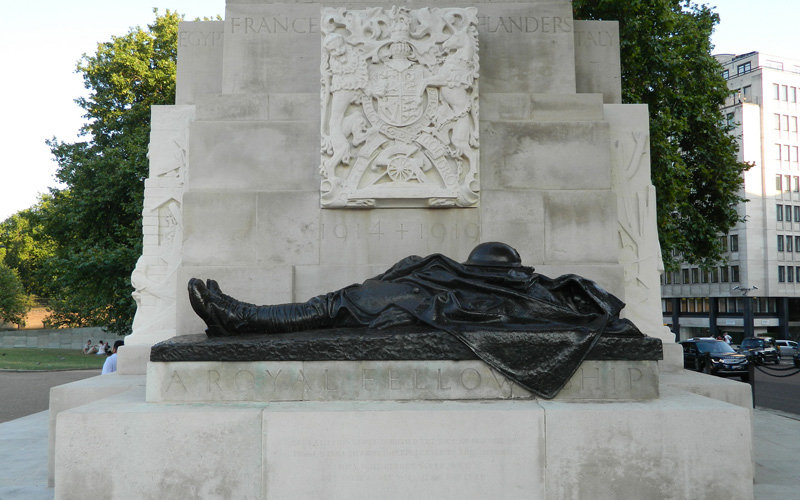 Photograph by Michael Day, CC BY-NC 2.0, via Flickr
As part of a learning project with Westminster Archives, Learning Officer Sam Doty ran a schools creative workshop inspired by the art of Charles Sargeant Jagger. Here she takes a look at how the First World War influenced the artist's career.
Charles Sargeant Jagger (1885-1934) started out as an apprentice metal engraver at the Sheffield firm Mappin and Webb, but went on to study sculpture, against his parents' wishes. After attending Sheffield School of Art, he was awarded a scholarship to the Royal College of Art in London.
On the outbreak of war in 1914 Jagger was studying in Rome. He returned home and joined the Artists' Rifles. In 1915 he was commissioned into The Worcestershire Regiment where his first taste of active service was during the Gallipoli campaign.
The National Army Museum has a small collection of drawings from his time in Gallipoli, depicting one of his fellow officers, Lieutenant Leslie Goold. Jagger was profoundly shocked by the conditions there. He wrote of it as a 'kind of hell', and the 'home of the damned'.
In November 1915 Jagger was shot through the shoulder and sent home to Britain. Later in the war he was awarded the Military Cross for his actions at the Battle of Neuve Eglise in April 1918 during the German Spring Offensive. During the battle he was severely injured by a gunshot through the chest, just two inches above his heart.
Following his recuperation, Jagger was commissioned by the British War Memorial Committee to produce a large relief sculpture, 'The First Battle of Ypres'. This was completed in 1918. Other commissions included 'No Man's Land' in 1919, now on display in Tate Britain. He used soldiers from his regiment as models for his works, maintaining the link between the art and the subject it represented.
Jagger is most renowned for his public sculptures, including the Royal Artillery Memorial at Hyde Park Corner, and the Great Western Railway Memorial at Paddington Station.