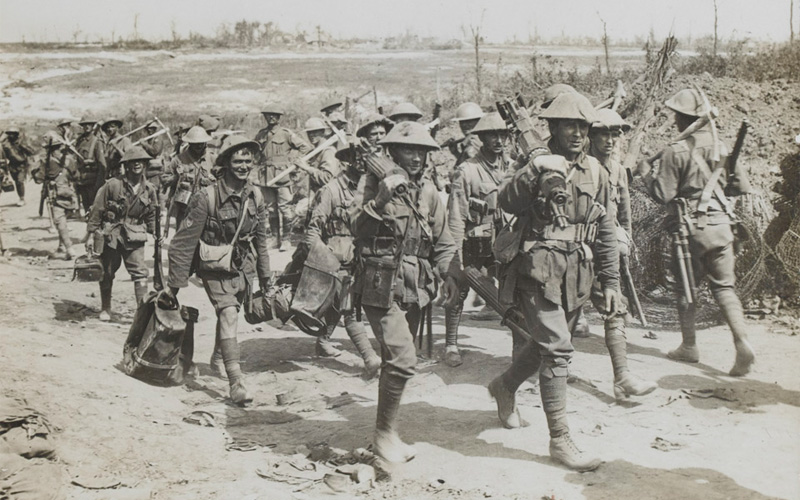 More details: NAM. 1952-01-33-55-13
To mark Australia Day 2016, we take a look at how the relationship between Britain and Australia encouraged men to volunteer for the Australian Imperial Force in their thousands, playing a vital role in the British war effort.
26 January is Australia Day – the official national holiday marking the anniversary in 1788 when the 'First Fleet' of British settlers landed in Sydney Harbour to establish a permanent colony. The commemorations aim to observe and acknowledge the cultures, diversity and achievements of all Australians, welcome new migrants in citizenship ceremonies, and reflect upon Australian history.
Australia and Britain have long been allies, fighting together in several wars, including the First World War. When Britain declared war over Germany's refusal to remove their army from neutral Belgium, Australian Prime Minister Joseph Cook offered a 20,000-strong Australian Imperial Force (AIF), stating 'when the Empire is at war, so is Australia at war'.
Unlike Britain, where conscription was introduced, all serving Australian soldiers in the First World War volunteered of their own accord. By 1918, 416,809 had enlisted, with 324,000 serving overseas. From a population of 4.9 million, this was nearly 40 per cent of all fighting-aged men.
Australia's contribution is strongly associated with Gallipoli, where 8,709 Australians were killed and 20,000 wounded in a failed eight-month campaign. But Australian losses in the campaign were actually much less in comparison to their contributions on the Western Front. The Australians also joined the Battle of the Somme on 19-20 July 1916 at Fromelles. Within 24 hours 5,533 men were dead – the worst loss of Australian life on a single day in history.
Australians were considered to be highly effective troops, fighting in major battles such as Passchendaele, the Defence of Villers-Bretonneux, and the offensives of 1918 that led to victory. Australia also sent a contingent to capture Germany's colonies in the Pacific Ocean, and Australian Light Horsemen were vital in defeating the Ottoman Army in Palestine, helping to capture the key cities of Beersheba, Jerusalem and Damascus.
A total of 61,514 Australians were killed and 156,000 wounded or imprisoned whilst fighting in the First World War.
Watch our videos exploring the Empire and Commonwealth contribution to the British war effort