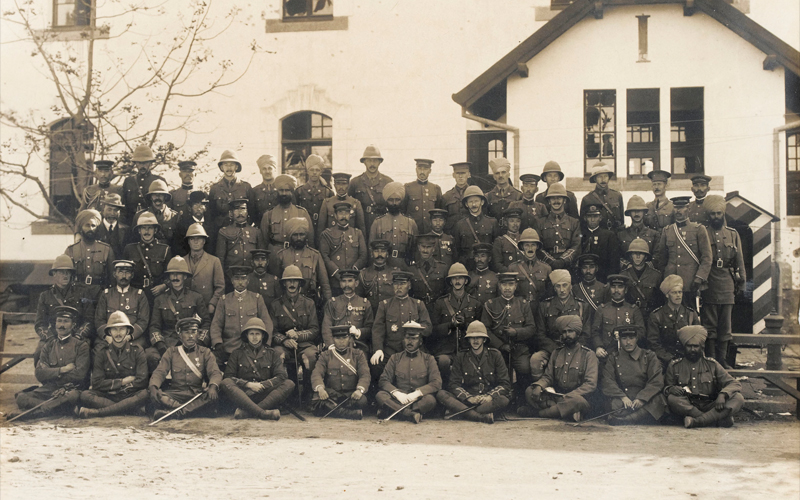 More details: NAM. 1969-06-31-65
With the first of the National Army Museum (NAM)'s commemorative exhibitions launching in Cardiff last week, we decided to take a closer look at some of the Welsh regiments' contributions to the Great War.
Last week saw the first of NAM's commemorative First World War exhibitions open its doors to the public at Firing Line, Cardiff Castle Museum of the Welsh Soldier.
With a large crowd in attendance, we were honoured to welcome First Minister for Wales, the Rt Hon Carwyn Jones, to the opening of Outbreak 1914! Wales Goes to War. NAM's Director General, Janice Murray, and Firing Line Director, Christopher Dale, also gave speeches.
Outbreak 1914! is a series of exhibitions telling local stories of the early stages of the First World War all over the UK. The exhibitions draw on artefacts, photos and stories from NAM's extensive Collection, as well as those of their host Regimental Museums.
The exhibition at Firing Line focuses on The Royal Welsh Fusiliers, The South Wales Borderers and The Welsh Regiment, who were some of the first units to be sent over to France in 1914. So who were they?
The Royal Welsh Fusiliers dates back to 1689 and was one of the first regiments to be granted a fusilier title. During the First World War it was involved in the famous Christmas Truce of 1914 and received eight Victoria Crosses. It was also the regiment of notable authors such as Robert Graves, Siegfried Sassoon and Welsh-language poet Hedd Wyn, who was killed at Ypres in 1917.
The South Wales Borderers also has its origins in 1689. Originally associated with Warwickshire, in 1873 its regimental depot moved to Brecon in South Wales and in 1881 it became known officially as The South Wales Borderers. The Regiment's First World War service included action in France, China (during the invasion of the German naval base at Tsingtao), and at Gallipoli. Notable members included the poet Saunders Lewis, who later became the founder of the Welsh Nationalist Party, Plaid Cymru.
The Welsh Regiment was formed in 1881 by the amalgamation of the 41st (Welsh) Regiment of Foot and the 69th (South Lincolnshire) Regiment of Foot. It fought at Gallipoli, Salonika, Egypt, Palestine and Mesopotamia during the First World War, as well as on the Western Front. The Regiment won its first three Victoria Crosses during the Great War.
ITV Wales attended the launch of Outbreak 1914! Wales Goes to War, providing coverage of the displays as well as more background on these inspirational men.
Our series of exhibitions in partnership with Regimental Museums up and down the country is a wonderful way to mark the centenary in your local area.