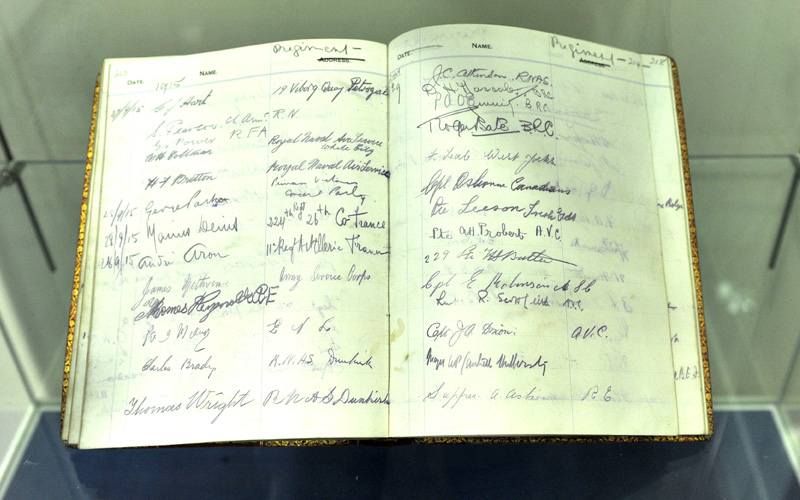 We take an in-depth look at the fascinating Harbour Canteen Visitors' Books, featured in our 'Your Country Calls: Enlistment to Embarkation' exhibition in Folkestone.
The National Army Museum's Your Country Calls: Enlistment to Embarkation exhibition opened last month in Folkestone, in partnership with Folkestone Town Council and local charity Step Short.
The exhibition provides an insight into the journey that millions of men took during the First World War as they travelled to the Western Front. Displays explore the important role that Folkestone played as a gateway between Britain and the rest of Europe.
Some of the most curious items in the exhibition are the Harbour Canteen Visitors' Books, provided to the exhibition by Folkestone Town Council. Born from a simple but poignant initiative by two local sisters, the books became a unique record of the vast majority of soldiers who passed through the town on their way to the Western Front.
Throughout the First World War, a canteen was situated on Folkestone harbour; it was the last pitstop on British soil for departing soldiers, and the first welcome home for those returning on leave. It served refreshments and provided anchorage in a time and place of widespread transit.
The owners of the canteen, Florence and Margaret Jeffrey, left out visitors' books for those travelling through to sign their names and regiments.
By the end of the War, eight volumes were collected, holding a total of 42,000 names of soldiers of all ranks from private to general. They also managed to collect signatures from famous and important visitors, including Winston Churchill. As such, the Harbour Canteen Visitors' Books give a unique snapshot of life in Folkestone during the War and, as they inevitably include the names of many who did not return home, act as a stark reminder of the sacrifices made on the Continent.
The Jeffreys sisters were awarded OBEs for their work in the canteen. Following their deaths in the 1950s, the books were handed over to Folkestone Town Council, and recently discovered by historian Charles Fair.
Local charity and exhibition partner Step Short has worked hard to bring this fascinating memorial to as many people as possible. Reflecting the organisation's aim to keep history alive, it has worked with Kent County Council to digitise the books, making them available on the Step Short website. The digitised versions allow the public to search for Harbour Canteen users by name, date and regiment.
For more information about Your Country Calls: Enlistment to Embarkation take a look at this short video about the exhibition, produced by Step Short.